It's quite inconvenient to be trapped at the Verify your account page after you've reset your device, especially if you don't recall the Google Account details you previously entered. Therefore, if you are locked out of your Gmail Google account and can't verify, here you can get the detailed steps to bypass Google account verification after reset on Android. It includes bypassing google account verification with/without a computer. Let's start to figure out what Verify your account or Google account verification is!!
Can i Bypass Google Account Verification after Reset?
If you factory reset a phone without disabling Factory Reset Protection, Google lock will be initiated. Your phone will be Google locked until Google account verification is bypassed.
Can Google verification be bypassed?
You can bypass it with your email or phone with ease. On the other hand, if you forgot Google account information, you can also bypass Google account with some other methods that we described in this post. Let's dive in!!
How to Bypass Google Account Verification After Reset.
First, to bypass Google account verification after resetting your device, a more straightforward option is DroidKit. Because it provides you with a Google FRP bypass tool to remove Google accounts on all phones and tablets. And it also allows you to bypass Google account verification after reset on Xiaomi, Redmi, or Oppo devices. After Google account verification is bypassed, you can get the previous Google Account removed completely from your device, and log in to another Google Account of yours to enjoy all Google services again.
With DroidKit, you can remove Google lock on your phone immediately. No need to send your device out to a technician and wait for days before getting it back. It supports all device, Samsung, Xiaomi, Redmi, POCO, and Oppo phones and tablets that are running Android OS 6-13. The tool is available for both Windows and Mac.
How Do I Bypass Google Account?
Bypass Google account verification and get out of Verify your account.
Restore full access to your phone or tablet right away.
Remove the previous Google account and log in to another account.
Steps to Bypass Google Account Verification after Reset:
Step 1. Get FRP Bypass Tool
Download and install DroidKit on your Windows PC or Mac > Preview DroidKit and select FRP Bypass.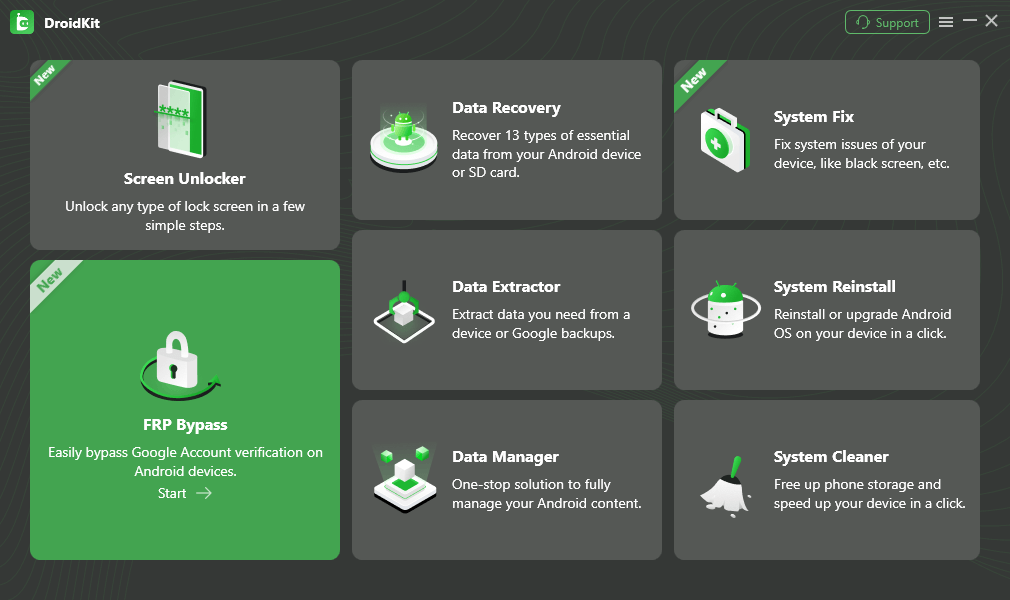 Choose FRP Bypass Mode
Step 2. Connect your Device
Once you are on the FRP Bypass screen, connect your phone and hit on the Start button. And then choose Samsung.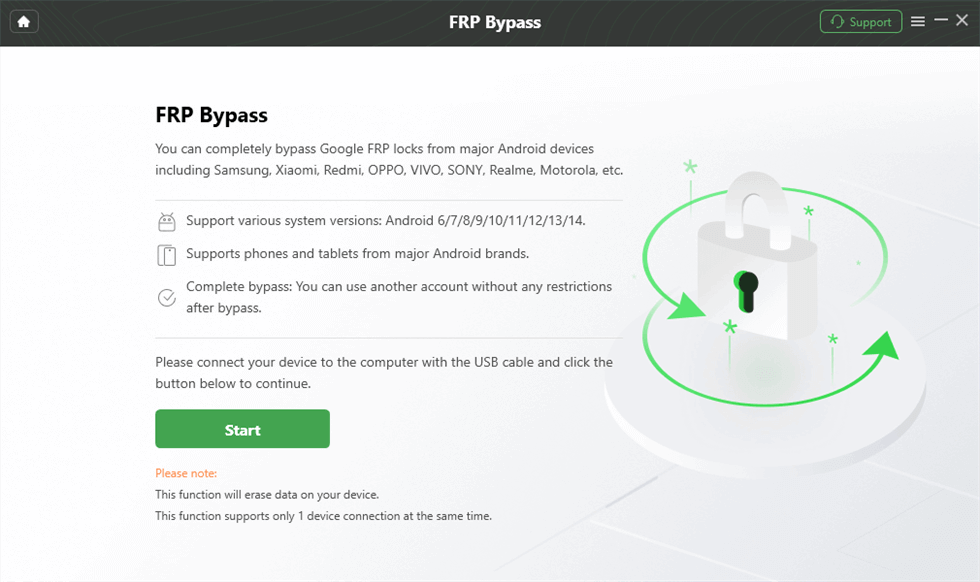 Connect your Phone and Start
Step 3. Start to Bypass and Enter Recovery Mode
After that, it will begin preparing the configuration file for your device. Once the preparation process ends, press the Start to Bypass button. Then, follow the instructions shown in the image to put your device in recovery mode.
Step 4. Click Next to Get Firmware
Once you are in recovery mode, select the System Version and tap on the Next button.
Step 5. Complete the Corresponding Settings
Then, follow the full instructions in the DroidKit interface and click on the Reset button.
Step 6. Google FRP Bypassed
After completing the steps above, the device will be restarted and the FRP Lock is also removed successfully.